WOOD SOLUTIONS 2011 SEMINAR SEPTEMBER 6TH
This report was prepared from a presentation at the Wood Solutions Seminar, conducted on 6th September 2011, attended by John Scandurra from Scandurra Architects.
It is the first of a series of reports that propose timber as a real alternative to traditional materials such as concrete and steel. The proposal is timber can outperform the fire rating and structural properties of these traditional materials when it is correctly understood and engineered. Additionally, it has the unique advantage of being a large natural repository for carbon which would otherwise be dissipated into the atmosphere.
Innovative Timber Buildings-including Cross Laminated Timber, presented by Liam Dewer, Director-Eurban Limited UK.
Learning Objectives:
Demonstrate an understanding of the natural attributes of timber in structural applications for: small scale, wide spans and multi-storey buildings.
Demonstrate awareness of recent developments in the use of timber in multi-storey construction in Europe.
Apply aspects of sustainable design practices and strategies through the design and specification of timber products.
Some propositions regarding timber construction.
There are 2 conceptual reasons for use of timber in construction: Carbon & Time. Timber structures can last up to 80 years; and timber is a good vehicle for storage of carbon.
Material Substitution: proposes that timber be the default material of choice, with steel and concrete as supporting materials (for fixings, etc.)
Solid timber buildings. This proposes that there is lower embodied energy in timber, through structural redundancy/ robustness. This equates to durability. Solid timber buildings can be viewed as a proposition for embodied carbon, stored carbon, and operational carbon. Higher stored carbon is used to offset more embodied carbon. Thermal stability offers lower operational carbon, achieved through moisture stability
Solid timber materials: log construction, traditional, logs being used vertically or horizontally. A high level of detailing is required.
Brettstapel: refers to an Austrian technology comprising planar elements; dowelled connections, low tech manufacture, narrow width, need for racking board.
Crosslaminated timber slabs (CLT): planar elements, glued, fingerjointed, thickness typically 50-400mm.
The Case for CLT
Glues are used instead of metal screw fixings, in order to keep down the embodied energy. They are industrially manufactured, produced as slabs for floors and walls. CLT has dimensional stability, simplicity of connections, predrilled panels.
Simplicity. Simple interfaces: easy to fit window & door frames into CLT slabs.
Simple to fit out: it is easy to drill holes into CLT slabs for service penetrations & for fixing services to the slabs. The aim is to reduce the level of production processing in order to manage costs. This comes down to the design of the timber, material supply and installation:
Timber Design. This is by Swiss designers, using time-saving 3D modelling to achieve cost certainty and to model timber jointing. Installation drawings are produced from the 3D model.
Material supply. Forest covers only 12% of the UK, therefore timber is imported from Europe. Transporting from Europe has embodied energy costs. However, compared to steel and concrete, timber is lightweight to transport.
Quality Assurance processes manage the Installation process.
British Case Study. House in Central London
CLT house built on sunken concrete base. Cost-driven design. Insulation contained within the thickness of CLT walls, 160mm thick. Timber's stability was also used for thermal performance.
The build. Combined wall panels and floor panels, with a minimally detailed interface.Delivered as a flat pack to the site. The client spent more money on the sunken concrete base and services than on the superstructure. The roof also comprises CLT panels with waterproof tanking placed on top.
Structural challenges. Big openings normally need to be spanned by beams: this function was absorbed by extra thick panels.
The tops of the walls were rebated to accept the edges of the floor panels.
The roof panels were built on site. The pitch of the roof was shaped into the thickness of the tapered beams.
Detailing was required for the parapets, which were angle bracketed to the rooftop.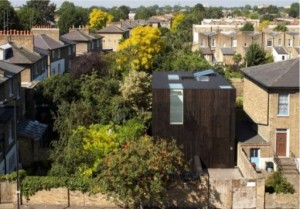 EPDM roofing. A low moisture content of glulam (10%MC) allows for absorption of moisture & release, well within the allowable 25% moisture limit.
Timber cladding: decking boards for walls & roof decking for material consistency.
Cost 500Pounds/sq.m for a 150 sq.m house.
Strategy engaged in British case study.
Achieve cost-effective housing through absorption of thermal, structural properties in a thicker panel. Reduce different elements to CLT slabs, with rebates to accept intersecting planes, simplifying connection details.
Client: Private.
Architect: Adjaye Associates.
Groundworks: Wallace Contractors.
Timber Engineer: Carbon Eng
Floor Area: 150 sq.m
Installation period: 1 week
Materials used: Crosslam / Glulam / Hemp Insulation
Stored Carbon: 58 t CO2e
Structural component diagrams, below: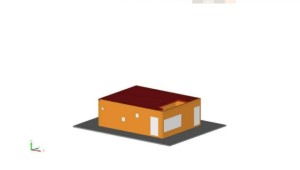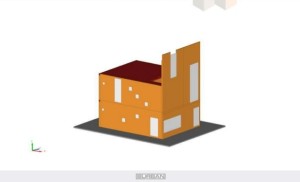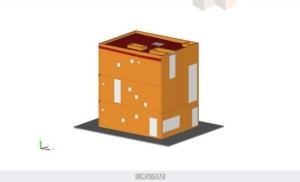 Refer to following link for more information:
http://www.slideshare.net/alaindesales/innovative-timber-buildings-including-cross-laminated-timber-and-laminated-veneer-lumber-by-liam-dewar
Australian Case Study. CLT Apartment Block, Sydney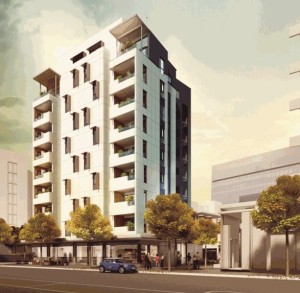 CLT is being trialled in Sydney: Pilot Multi-storey Social Housing Project, presented by: Jim Koopman, Director, Allen, Jack & Cottier, Richard Hough, Principal & Structural Engineer, Arup; James Kell, CEO, Kell & Rigby.
Learning Objectives:
Fire Engineering approaches for accommodating CLT construction into the design of multi-storey residential buildings in Australia.
Structural Engineering issues affecting the introduction of CLT into multi-level buildings.
Carbon footprint benefits to CLT construction.
A conventional 6-8 storey, 3000 floor–floor height.
Basement parking, Lower Ground retail. 3 blocks each containing 4.2m & 6.2m modules.
Alternative construction methods were designed for the scheme. The first was of conventional RC slab floor/roof, RC columns, fire rated acoustically attenuated drywall partitions, CFC Rainscreen to external walls.
An unconventional CLT alternative was designed to use 145mm thick CLT floor panels. External walls were designed with 170mm thick CLT panels. Balconies were designed in CLT slabs, routed to accept stormwater pipes. This scheme avoided wet trades, by not introducing screeds. Prefabrication of services and cladding was part of this alternative design methodology.
Another alternative was to design a CLT based scheme, adding 2 x 13mm Fyrchek walls to the CLT panels for fire protection.
Owing to the fire resistant design by Arup, they were able to prove that the CLT scheme without the added Fyrchek would satisfy NCC performance requirements for fire resistance.
Costs: The cost of CLT was costed as being on a par with low-cost conventional construction.
Timeframe: The concrete version of the scheme was projected to take 64 weeks to deliver. The CLT scheme was projected to take 51 weeks to deliver (13 weeks less).
A criticism of this project is that it relies on "importing" a specialist contractor for the CLT panels. It was counter-argued that this is a pilot project. If CLT technology is seen to be time & cost-effective, then there is the opportunity for it to be applied in other local projects. A CLT plant is scheduled for development in Australia, based on locally produced radiata pine.
For a full article, refer to the following link:
http://www.timberdesign.org.nz/files/00521%20Richard%20Hough.pdf